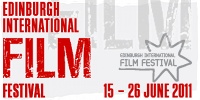 The 65th Edinburgh International Film Festival
kicked off last night with the Irish action comedy
The Guard,
followed by a somewhat subdued opening night party. The festival is drastically stripped down this year - fewer films and a lot less available for industry and media delegates. Even the film selection is a bit sober, relying on undiscovered gems to build momentum over the next 10 days. There isn't a single high-profile premiere here, but there are some solid mid-range offerings and lots of potential in the smaller and foreign selections. I've seen a couple of excellent films during press screenings over the last three days. Here are comments on a few films from today's programme...
The Guard
dir John Michael McDonagh; with Brendan Gleeson, Don Cheadle 11/Ire ****
Writer-director McDonagh brings to this film the same blend of black comedy, dark emotion and grisly violence as his brother Martin's gem
In Bruges.
And it's also another terrific character for Gleeson ...
FULL REVIEW >>
Oliver Sherman
dir Ryan Redford; with Garret Dillahunt, Donal Logue 11/Can ****
Quiet and thoughtful, like an emotional and intelligent stage play, this film confines its story to three characters for a darkly involving look at responsibility and the limits of human kindness. Seven years after their tour of duty on the front line, Sherman (Dillahunt) turns up unannounced on the doorstep of his former comrade Franklin (Logue), who generously offers to help. Although his wife (Molly Parker) starts to have doubts. The actors keep the film taut from the start, while the story's warmth and intensity keep us on our toes.
Phase 7
dir Nicolas Goldbart; with Daniel Hendler, Jazmin Stuart 10/Arg ***
Pitch black comedy sets this Argentine thriller apart from the crowd - it's like
Rec
meets
Shaun of the Dead
as a small block of flats is quarantined from a global epidemic. But in their isolation, the residents start to turn on each other. What makes it engaging is that the story is told through the eyes of a funny, scruffy young guy with a heavily pregnant, extremely hormonal wife. He doesn't want to get involved in the internal war, but finds it impossible to avoid. The comedy is so dry that it doesn't really make us laugh, although it nicely balances the increasing grisliness right up to the cleverly ironic ending.
Fast Romance
dir Carter Ferguson; with Jo Freer, William Ruane 11/UK *
This Glasgow-set
Love Actually
wannabe is a multi-strand rom-com made on a shoestring budget by people who clearly don't have much film experience. The direction and editing are jarringly awkward, the acting is far over-the-top and the score is deeply annoying. There is some cute plotting, and a couple of the actors manage to create believable characters amid all the over-directed goofiness. But the central premise (a collection of mini-romances that start at a speed dating night) never actually carries through, And while there are some talented people on-screen and behind the cameras, the real question is how this got into an international film festival. Locals will enjoy seeing their city (and their friends) on film, and that's about it.