The
London Film Festival
is now fully in its stride, dazzling audiences with the best films from the year's festivals while keeping the journalists hopping with an intense schedule of press screenings (I am seeing three or four films a day, others are seeing five or six). Somewhere I'm sure there's something festive happening, but I haven't really spotted it, aside from a press drinks hour the other night at Picturehouse Central's gorgeous new members' bar. And most of the films have been great, including these four...
The Lobster
dir Yorgos Lanthimos; with Colin Farrell, Rachel Weisz 15/Ire ****
Greek filmmaker Yorgos Lanthimos (
Dogtooth
) makes his English-language debut with this blackly comical satire about how society pressures us into relationships. It's telling and complex, and it feels like two movies mashed together, plus a very dark coda. But an up-for-it-cast brings out layers of meaning while keeping us laughing brittlely...
MORE >;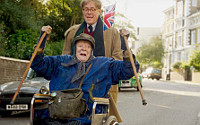 The Lady in the Van
dir Nicholas Hytner; with Maggie Smith, Alex Jennings 15/UK ****
Alan Bennett adapts his own memoir for the big screen, cleverly playing with the idea that he is writing his own story. Yes, a homeless woman really did live in a van in his driveway for 15 years. And since the great Maggie Smith plays her on-screen, the film is not only entertaining, but its message has a spiky bite.

The Wave [Bølgen]
dir Roar Uthaug; with Kristoffer Joner, Ane Dahl Torp 15/Nor ****
Structured exactly like a classic disaster movie, this Norwegian dramatic thriller is particularly well-made, with vivid characters and a believable sense of the science behind it. The premise is a picturesque fjord that has long been at risk of a mountainside collapse, which would trigger a devastating tsunami. And in this solidly crafted, only slightly corny movie, an entire village's day has come.
The Endless River
dir Oliver Hermanus; with Nicolas Duvauchelle, Crystal-Donna Roberts 15/SA ****
A harrowing drama about the cycle of violence in South Africa, this film certainly isn't easy to watch as it continually challenges the viewer's preconceptions. Dark and tough, it's evocative and simply gorgeous to watch, even though the story is relentlessly painful. Filmmaker Hermanus finds real resonance using period-style touches in a present-day story. Although it somewhat heavy and over-serious for some viewers.
~~~~~~~ ~~ ~~~ ~~~~
C R I T I C A L W E E K
I only had a few of non-LFF screenings this week, including a very late press screening for Guillermo Del Toro's visually ravishing but otherwise disappointing
Crimson Peak
; the nutty British werewolf thriller
Howl
; the offbeat Argentine road movie
Jess & James
; and the acrobatic documentary
Grazing the Sky
, which is a must see for fans of physical movement. I have a glut of LFF films to come, and won't be back in non-festival mode until after this coming week.