The 31st edition of the British Film Institute's Flare: London LGBT Film Festival kicked off on Thursday night with the world premiere of the BBC drama

Against the Law

, produced to mark the 50th anniversary of the 1967 Sexual Offences Act. It's a powerfully cinematic movie that deserves to be seen on the big screen, as it includes documentary clips of men who lived through the events depicted from the 1950s, starring Richard Gadd and Daniel Mays (above).

Against the Law dir Fergus O'Brien; with Daniel Mays, Richard Gadd 17/UK

****

(world premiere)

An inventive blending of period drama and talking head documentary, this pointed film is beautifully edited to make the most of both strands. Each feeds into the other with a powerful sense of momentum, giving the final scenes a proper emotional kick. And there's also a sense of timeliness, as the story recounts events from 60 years ago that would change British law about homosexuality a decade later. And the events still resonate loudly today.
After Louie
dir Vincent Gagliostro; with Alan Cumming, Zachary Booth 17/US ***. (world premiere)
Big ideas circle around this earthy drama set among New York artists. The characters are bright and engaging, even as they are deeply flawed, and the talky script takes an unexpectedly honest approach to hot potato topics, exploring how nostalgia for the gay rights movement of the 1990s might not be the healthiest way to move forward. It's perhaps too deliberately provocative to be properly moving, but Alan Cumming delivers a beautifully complex central performance.
Taekwondo
dir-scr Marco Berger; with Gabriel Epstein, Lucas Papa 16/Arg ***.
Essentially a mash-up of writer-director Marco Berger's Hawaii and producer-codirector Martin Farina's Fulboy, this film places nine athletic young men in an isolated house for a sweltering summer getaway and observes the physicality between them. There's a hint of a plot between two of the guys, and a few traits emerge here and there, but the movie is basically a tactile, tantalising tease that pays off only in the final moments...
FULL REVIEW >
B E S T O F T H E Y E A R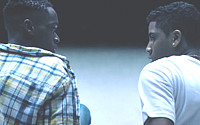 Moonlight
dir-scr Barry Jenkins; with Trevante Rhodes, Andre Holland 16/US
****.
With its intimate approach and deeply resonant themes, this film gets under the skin right from the start, putting us in the shoes of the lead character at three points in his life. His journey to self-discovery is difficult, partly because he is painfully withdrawn due to his tough life experiences. And what this movie has to say is so important that it deserves all the the attention and awards it gets...
FULL REVIEW >
It's Only the End of the World
dir-scr Xavier Dolan; with Gaspard Ulliel, Vincent Cassel 16/Can
*****
Few filmmakers are as bold as 27-year-old Canadian Xavier Dolan, who regularly takes on family relationships using bravura filmmaking that brings out unexpected, unfiltered emotions. This film, based on a play by Jean-Luc Lagarce, is a staggering dissection of the dynamic between parents, children and siblings. It's heightened to the point that it's often painful to watch, but it's also urgent, honest and essential...
FULL REVIEW >