Jon Stewart (right, above, with actors Amir El-Masry, Dimitri Leonidas, Kim Bodnia and journalist Maziar Bahari) hit London this weekend for the gala screening of his directing debut
Rosewater
, the staggering story of Bihari's 118-day imprisonment in an Iranian prison. It's one of my favourites of the festival so far - a proper punchy political drama packed with wit and emotion. Another is
10,000 Km
(also reviewed below), a bracingly realistic romance.
Meanwhile, I kept myself to one movie today - needed a bit of a break and some time to write! There's still a long way to go to catch up. And here are some more festival highlights...
Rosewater
dir Jon Stewart; with Gael Garcia Bernal, Kim Bodnia 14/US
****.
Based on London-based journalist Maziar Bahari's book Then They Came for Me, this film is a strikingly even-handed exploration of the situation in Iran, telling a harrowing story that never turns into a rant. The key here is a smart, knowing, mercifully witty screenplay, plus performances that dig far beneath the surface.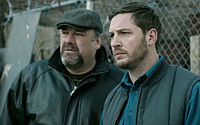 The Drop
dir Michael R Roskam; with Tom Hardy, James Gandolfini 14/US ****
A dark dramatic thriller, this film keeps the suspense intimate right to the heart-stopping climactic scene. It's an unusually internalised approach to a crime drama, and it pays off in fine performances from an excellent cast, plus moral dilemmas that properly draw in the audience. In the end, it kind of leaves the viewers in the dust, but it's been a great ride.
The Keeping Room
dir Daniel Barber; with Brit Marling, Hailee Steinfeld 14/UK ***.
Set at in the final onslaught of the American Civil War, this offbeat film combines a war movie with a horror thriller as three women make one last stand against encroaching violence. It's an unnerving, haunting film that isn't afraid to take eerily emotional punches without lessening the suspense for a second.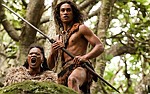 The Dead Lands
dir Toa Fraser; with James Rolleston, Lawrence Makoare, 14/NZ ***
What starts as an intriguing fable about early life in New Zealand spirals quickly into a rather dim-witted action movie. But the Maori setting and culture add plenty of intrigue, and the plot has the heft of an enduring legend. So even though it's all faintly ridiculous, it's easy to just sit back and go with it. And fans of the haka will love it.
FULL REVIEW >
10,000 Km
dir Carlos Marques-Marcet; with Natalia Tena, David Verdaguer14/Spain
****.
Spanish filmmaker Marques-Marcet gives this film a disarming tone so realistic that it almost feels like a doc. From the intimate 24-minute opening take to a series of webcam chats, this seems like real people living out a long-distance relationship. Impeccably shot, edited and played, it's impossible to watch this film without seeing yourself on-screen.