Reese Witherspoon took London by storm today - and it was a properly stormy day - with the London Film Festival gala screening of her new movie
Wild
. She braved the rainy red carpet tonight with Cheryl Strayed, the intrepid author she plays in the film, and screenwriter Nick Hornby. Also on the red carpet today were Sally Hawkins, Rafe Spall and Asa Butterfield (for
X + Y
); and Sophie Okonedo, Nathan Stewart-Jarrett, Shaun Evans and Antony Sher (for
War Book
).
After gorgeously sunny, crisp weather over the weekend, today was a thorough wash-out, with spray from the heavens all day. It wasn't much fun walking around; it's the kind of day you really want to be sitting in a cinema. Here are some more festival highlights (full reviews are coming!)...
Wild
dir Jean-Marc Vallee; with Reese Witherspoon, Laura Dern 14/US ***.
Based on the memoir by Cheryl Strayed, this film depicts her journey as launching with a badly overstuffed backpack, which is just the first metaphor in this overstuffed thematic odyssey. Fortunately, it's directed with skill and artful insight by Vallee and acted with rare transparency by Witherspoon. The trick is to not let the onslaught of aphorisms weigh you down.
My Old Lady
dir-scr Israel Horovitz; with Kevin Kline, Maggie Smith 14/UK ***.
An oddball sensibility keeps this gentle drama from ever turning maudlin or sentimental, even as the story explores some potentially melodramatic issues. Relaxed performances and a script packed with revelations (based on writer-director Horovitz's play) keep the audience entertained while being poked by some surprisingly sharp edges.
The Falling
dir Carol Morley; with Maisie Williams, Maxine Peake 14/UK ****
There's a fiercely original sensibility to this film, which boldly explores female puberty through a series of rather outrageous events. By combining life and death with sexuality, writer-director Morley is definitely courting controversy, and some of the plot points feel like a step too far. But it's so strikingly intimate and fiercely artistic that it can't be ignored.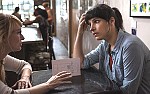 Appropriate Behavior
dir Desiree Akhavan; with Desiree Akhavan, Rebecca Henderson 14/UK ****
Actor-filmmaker Desiree Akhavan is clearly exorcising some very personal ghosts with this lively comedy, which echoes the style of Girls by presenting the central character as a likably flawed real person doing her best to get through a messy life. (Intriguingly, Akhavan appears in the next series of Girls.) It's a very funny movie, with a remarkably astute script and some surprising textures along the way.
A Girl at My Door
dir July Jung; with Doona Bae, Kim Sae-ron 14/Korea ****
A chilling tale of social evils in small-town Korea, this drama centres on an offbeat friendship between two damaged women who draw the suspicions of everyone around them. Filmmaker Jung is playing with perceptions, letting the audience see things only slightly more clearly than the bigoted locals. It's a riveting film that never offers easy answers.