Jennifer Lawrence made a witty red carpet appearance at the 58th London Film Festival to promote her new film Serena, costarring Bradley Cooper, which was only showed to selected press (I'll see it next week). At least the rain stayed away today! Also on the red carpet tonight were the cast and crew of Testament of Youth, based on the Vera Brittain memoir. It was the film's world premiere, attended by actors Kit Harington, Emily Watson, Dominic West and more, plus director James Kent and writer Juliette Towhidi. That one I did see, and it's covered below, along with some more highlights...
Testament of Youth
dir James Kent; with Alicia Vikander, Kit Harington 14/UK ***
Vera Brittain's iconic memoir gets the full British period drama treatment, although it's so lovingly crafted that it struggles to spring to life. It's beautifully shot and acted but, especially in the final third, the film is almost painfully worthy, wallowing in its emotions rather than finding something resonant in the story.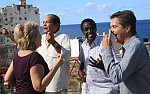 Return to Ithaca
dir Laurent Cantet; with Alberto Pujols, Isabel Santos 14/Cub ****
A lively reunion of old friends, this organic drama swirls from comedy to dark drama and back again, refusing to wallow in nostalgia even as this gang of "old farts" can't help but reminisce about the old days. But since it's set in Havana, the film has a lot to say beyond the issues facing five 50-ish pals whose lives haven't gone the way they expected them to.
The Cut
dir Fatih Akin; with Tahar Rahim, Simon Abkarian 14/Ger ***
Shot in Germany, Jordan, Malta, Cuba and Canada, this international production takes on a major historical atrocity that most countries refuse to admit ever happened: Turkey's genocide against the Armenians during World War I. The film goes on to be an epic global odyssey that has a powerful emotional kick, even if the filmmaking feels somewhat contrived.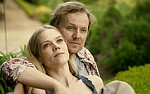 1001 Grams
dir Bent Hamer; with Ane Dahl Torp, Laurent Stocker 4/Nor ****
Cheeky Norwegian filmmaker Hamer is back with another film that combines black comedy and dark drama. And this time there's also a layer of startlingly warm emotion running just underneath everything. Ostensibly a story about the most immovable technical details about everyday life, the film's ultimate point is that some things can't be measured.
Metamorphoses
dir Christophe Honore; with Amira Akili, Sebastien Hirel 14/Fr 1h42 ****
Based on Ovid's epic 1st century poem, this film is a strikingly involving exploration of how ancient mythology both creates and exposes elements of humanity and culture. Set in modern-day France in which average people take on the roles of gods and mythical characters, the film isn't easy, but its earthy approach makes it unnervingly resonant.
~~~~~~~ ~~ ~~~ ~~~~
CRITICAL WEEK: Life goes on
Yes, during all the festival chaos, I still have to keep writing my usual reviews and reports on what's happening in cinemas. All of this is on the website. Non-festival films seen this week include The
Maze Runner, This Is Where I Leave You, The Judge
and
The Secret Path.