At the 58th London Film Festival today, the gala presentation was the premiere of Sundance winner
Whiplash
, attended by stars Miles Teller and JK Simmons (above). The film kicked off the critics' day with a breathless 9am screening that certainly got our adrenaline pumping for the rest of the day. Here are some more highlights...
Whiplash
dir Damien Chazelle; with Miles Teller, JK Simmons 14/US ****.
With a literally breathtaking pace and outrageously high energy, this film grabs you by the lapels and shakes you until you're a blubbering wreck. This is about as black as comedies can get, hurtling through the story of a talented young man coming up against a seriously fearsome teacher. And it's so powerful that it takes awhile to recover after the credits roll.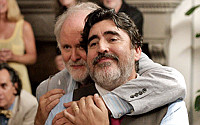 Love Is Strange
dir Ira Sachs; with John Lithgow, Alfred Molina 14/US ***.
Gentle and almost overwhelmingly bittersweet, this drama is packed with such engaging characters that the weaknesses of the plot don't seem too distracting. It has something powerful to say about extended relationships as it explores a long-term romance in a quietly moving way.
Jamie Marks Is Dead
dir Carter Smith; with Cameron Monaghan, Noah Silver 14/US ***.
This soft-spoken film is both a sensitive teen drama and one of the most inventive ghost stories in recent memory. It's haunting and visually stunning, with moments that are deeply moving and genuinely horrific. And at its core it's a thoughtful exploration of adolescent yearning to make sense of unexpected feelings.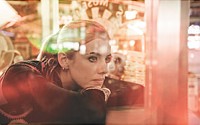 Electricity
dir Bryn Higgins; with Agyness Deyn, Lenora Crichlow 14/UK **.
While this film has enough visual panache to please arthouse audiences, its script is simply too thin to back up the imagery with any resonant meaning. The solid cast never gets the chance to delve deeply into the characters and, in the end, the filmmaker's emphasis on eye-catching flourishes leave everything else feeling rather simplistic and empty.
Next to Her
dir Asaf Korman; with Liron Ben Shlush, Dana Ivgy 14/Isr ****
This offbeat Israeli drama features vivid characters and a series of stunning twists and turns that continually challenge the viewer's attitudes. With a strong sense of realism, director Korman creates a strikingly involving film that touches on big issues while remaining deeply grounded in the characters.